Dr. Amirhossein Golkhorshidi MSc.
Dentist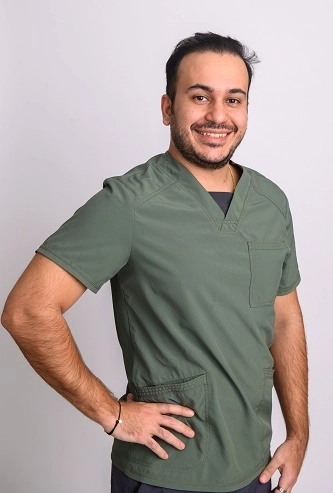 "Dentistry is where science meets art."
Specialisations
Dental implants
All treatment methods of laser dentistry
Root and gum treatments
Dentures/dental prostheses
Conservative dentistry
Periodontology
Smile design treatment
Aesthetic fillings
Introduction
I obtained my dental degree in 2015 from the Faculty of Dentistry of Semmelweis Medical University where I acquired substantial up-to-date knowledge and experience in the fields of conservative dentistry and prosthodontics, as well as periodontology.
In addition to providing the highest care and precision using the latest technology, I believe that a professional dentist is someone who can transform the unpleasant experience of visiting the dentist into a pleasant time, free of fear and anxiety.
I completed my master's degree from the University of Duisburg-Essen, where I obtained a Master's degree in Implantology and Dental Surgery.
Why Naturadent?
I believe in the power and effectiveness of laser dental solutions. The modern dental equipment and treatment methods offered by Naturadent Laser Dentistry allow me to make the most of everyday treatments such as fillings, root canal treatments and oral surgery. To restore patients' health and help them achieve their dream smile, it is essential to be skilled in aesthetic dentistry, smile design and the knowledge of facial harmony.
Languages
English, Hungarian and Persian.
Patient reviews
Martha B.
I had huge amalgam fillings in my teeth which looked horrible. Fortunately, I found Dr. Amir. He replaced the fillings and restored my smile. I thought that my teeth were ugly and could not be saved. But Dr. Amir found a way.
Szabina B.
I had my amalgam fillings replaced. The truth is, I like my smile more and more every day, and I'm less afraid to laugh... Dr. Amir did the impossible.
Andrea O.
For a very long time, I thought about having my teeth fixed. There were traces of previous fillings and cracks on my teeth. They were very visible, and it really disturbed me. The results of Dr. Amir's work exceeded my expectations.
Mission
My mission is to eliminate the pain and alleviate any dental symptoms my patients suffer from. I always emphasize the importance of oral hygiene and help patients to restore their confidence.
Implantológiai kurzusok
Jelentősebb külföldi tanulmányútjaim
Általam tartott lézerfogászati továbbképzések