Smile Gallery
Take a look at the results of our previous treatments that reflect the high quality Naturadent represents.
Bonding 2.0 – High-quality materials and natural look for a harmonious smile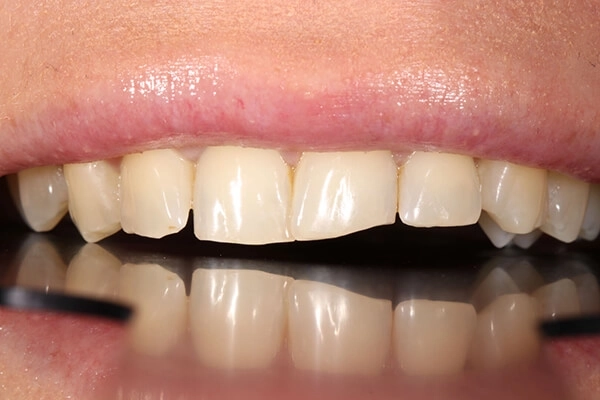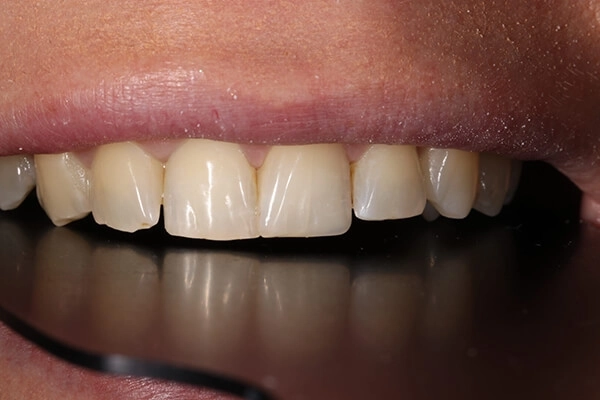 Bonding
Case history
One of the patient's front teeth was heavily abraded. We used a high-quality filling composite to restore the symmetry between the upper front teeth. The abrasion was not simply an aesthetic problem, it resulted in a misaligned bite which negatively impacted the patient. We restored the tooth quickly and painlessly: the symmetry of the upper front teeth was restored. This new balanced bite and smile gave our patience confidence in their day-to-day life.
Purpose of treatment
Restore the harmony of the smile with the help of aesthetic bonding on the chipped tooth.
Solution
Repairing without reshaping the remaining tooth, in order to maintain the natural harmony of the teeth. The key: invisible bonding.
Thanks to our innovative tools and world-class filling materials, our skilled dentist restored the tooth without having to grind the tooth down. This method allowed our patient to maintain the natural harmony of the teeth. The result is invisible, long-lasting and aesthetic. Because a comfortable and healthy smile is paramount.
Related services
Are you facing a similar problem?
Book an appointment with us
Upper molar filling using dental dam (cofferdam) – First-class restoration using modern laser techno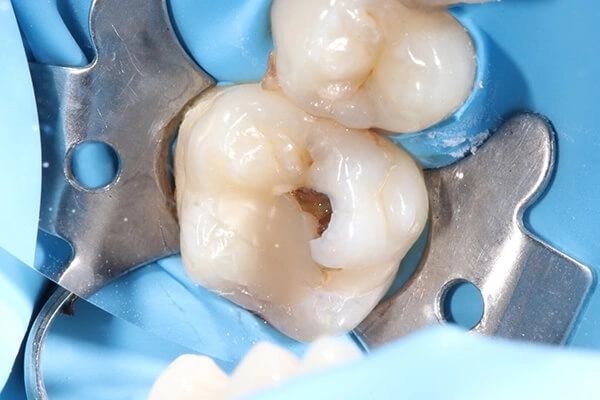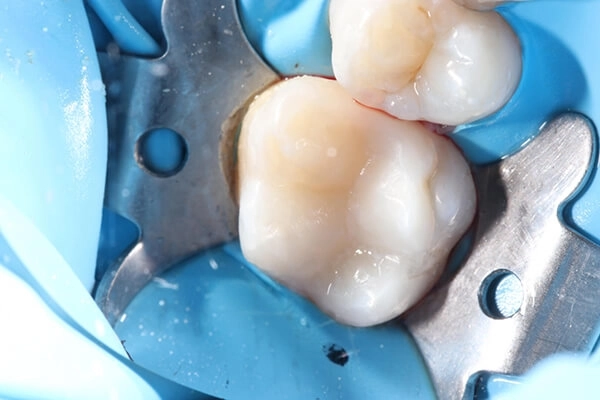 Tooth filling
Case history
The patient's tooth with an old white filling was so heavily decayed that the brown area was visible to the naked eye. Not just in the picture, but in real life.
Purpose of treatment
Remove the recurrent decay and save the tooth. Then, prepare a new, fully functional restoration that matches the color, shape and functionality of the tooth.
Solution
Removing the old filling and decayed areas using state-of-the-art laser technology. In order to restore the anatomical structure of the tooth, we used a filling composite that is identical to tooth enamel. We went the extra mile to form the secondary grooves on the molar using a unique layering technique and natural filling shade, resulting in an artfully crafted tooth filling.
Related services
Are you facing a similar problem?
Book an appointment with us
Book an appointment
We first carry out a complete oral health assessment and examination for each new patient. Then, we prepare an individual, customized treatment plan with the expected costs. (Consultation, check-up and treatment plan: 11 000 HUF)